Techtics Services


Software Testing Manual & Automation


We offer flexible hiring models that you can select as per your unique requirements
End-to-End Application Testing
Quality Assurance and Testing Services
We have been serving many companies with our software quality assurance and software testing services over the years. Software quality assurance and software testing play a crucial role in discovering defects in all of these procedures. Techtics is a full-service provider of quality assurance and testing services. Hire SQA Engineers for End-to-End web application testing, mobile application testing, desktop application testing. For QA and testing services, we use real devices for mobile application testing along with Test Object and similar frameworks and provides you with a detailed report containing the list of the detected issues and recommendations on how to fix them.
Get quality assurance as a service for improved product development and reduce the possible software failures at later stages. Our QA department has extensive experience in eCommerce, Healthcare, Education, Automotive, Fleet & Vehicle Management, Retail, Utilities, Manufacturing, CRM, Public Survey, Parking Systems, Rebate Management, Chat Applications, Hospitality Management, Travel & Tourism, and Hotel Management software applications testing.
Hire dedicated SQA Engineers for QA and testing services.
The SQA will be working full-time and 100% dedicated to your company.
Constant feedback and cooperation.
Transparent and solid working methodology.
Guaranteed Intellectual property rights and Data Confidentiality.
Application Support and Maintenance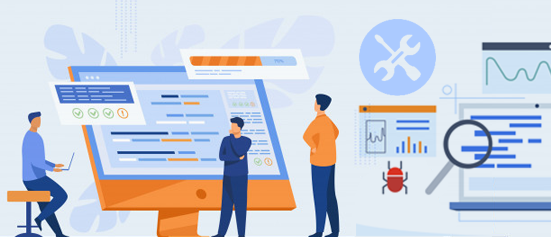 What Techtics Offers?
Area Of Expertise in SQA and Testing
Techtics covers the QA and testing process from start to finish with test management, test automation, and a variety of quality services, including:
Test planning, partitioning of functional decomposition, requirements definition and verification, test case design, traceability matrix, and test case evaluation, and defect management, and coverage analysis.

Our expert SQA Engineers detect front-end and back-end drawbacks in web applications. Also, check the functionality and performance issues across multiple platforms and browsers.

Desktop Application Testing
Hire SQA Engineers for desktop application testing service to ensure your desktop applications are secure, scalable, functional, and certainly compatible on the market.

Mobile Application Testing
Techtics emphasizes its hybrid/mobile application testing services to ensure that efficient testing is performed on each mobile device, version, and technology specifics platform.

Automation Testing Services
Techtics offers Software Test Automation services to help companies automate their testing process. Increase the pace of innovation with on-time delivery of new enterprise software.

It is the most fundamental testing type in all available testing methods. During manual testing, our quality assurance team checks the performance of your product, user interface, and usability.

Functional and Non-Functional Testing
Hire SQA Engineers to validate and verify that every feature of your software application works as expected, they also ensure new code doesn't cause bugs with previously released software.
Offering the Perfect Blend of Emerging Technology Know-How & Domain Expertise


Workflow and
Asset Management



M-commerce
(mobile commerce)
Qualified SQA Engineers
Manual & Automated Test Consultants
With the help of our qualified SQA Engineers, our software quality assurance and software testing Services provide our bench of experienced manual and automated test consultants, a strong-tailored talent network of functional automation and performance test engineers, and 'specific expertise' partners in security and user experience testing, including:
Quality software and application testing consultants with immense experience as test project managers, test architects, test leads, test analysts, test design, and data engineers with expertise in web, mobile, cloud, data, IoT, and SaaS applications.
Cross-functional and cross-platform testing skills to assure perfect user experience across devices, browsers, operating systems, infrastructures and networks and back-end, SQL-literate testers who can employ White Box and Grey Box techniques.
Functional test engineers who bring capabilities in requirements testing, system & end-to-end testing, business process testing, and user acceptance testing. Hire SQA test engineers who can implement maintainable web, mobile, and data-driven automation.
Test SQA Engineers Leads with experience managing geographically distributed teams, third-party vendors, and managed services partners. Engineers specializing in testing and managing application performance in connected cloud-based stacks.
Looking to Start a Project?
Tell us your needs and we will set you up with the best talent and a proven
software testing and quality assurance services.