Our Services


Angular Application Development


We offer flexible hiring models that you can select as per your unique requirements
Angular and AngularJS
Web Application Development
Angular is an open-source JavaScript MVC framework for frontend development, that remarkably facilitates building dynamic applications, websites. Angular comes with multiple ready-made components and tools which reduce development time. Let's transform your business drastically with highly interactive and data-driven single-page applications. Hire Angular Developers, our Web Application Development team is dedicated to developing secure and dynamic Angular applications suiting your business needs.
Experienced team of Angular and ASP.Net Zero Developers.
We offer the most competitive rates across the globe.
Constant feedback and cooperation.
Transparent and solid working methodology.
Guaranteed Intellectual property rights and Data Confidentiality.
Application Support and Maintenance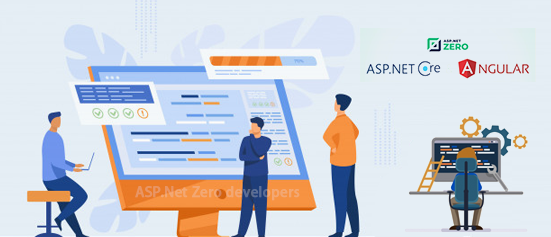 Our Expertise
Customized / Creative Applications
Using fantastic technology frameworks like angular. We are skilled in the design of rich user interfaces and front end development services for both mobile and web applications. Hire Angular Developers to work in core Angular and AngularJS Web Application Development, our expertise is in the following areas.
API Development
and Integration
Our tech geeks expand upon Angular API development and integration capabilities to construct truly reliable, fast, and better-performing apps.
We develop the most reliable, better-performing, and scalable portal solutions, whether they are internal, web-based, or mobile apps.
Dedicated
Development Teams
Hire a Dedicated Development Team of experienced developers to get cost-effective & expert application development services for your business.
Our dexterous dev skills allow us to build fully customized Angular web and mobile applications as per your business and product needs.
We have determined experience is developing single page, interactive and data-rich e-commerce sites to provide an experience to the end-user.
Interactive
App Development
We construct highly interactive, user-friendly, and collaborative Angular applications, that are essentially faster, secure, dynamic, and better performing.
Angular is the most rapidly emerging javascript framework, that extends beyond conventional frameworks by creating rich website user interfaces and single-page web applications with cross-platform capabilities. Angular is promising and an excellent choice for web developers because it is feature-rich and enables the development of top-notch web applications. Angular is an excellent choice for companies and developers who already use TypeScript.
Modifications are made to page DOM directly, instead of adding inner HTML code, which makes it faster
MVC framework makes Angular the best lightweight solution for balancing between client logic and server
The two way data binding makes code flexible enough to reflect data changes immediately in the UI
It enables custom directives that allow creation of custom HTML tags or decorative elements with behavior
Angular DOM and binding attributes make code easier to understand and less error prone
Dependency injection features enable better development and testing of apps, thus boosting productivity

Why Choose Us
For Angular App Development
The angular eco-system is rapidly developing and has a growing number of excellent libraries and supporting frameworks. We employ the agile methodology to keep you in the loop. Our highly-qualified Angular web development experts specialize in building customized, creative, and highly-interactive web and mobile applications.
Angular Component Development
Build UI components which are fully functional and reusable for different web applications. Enterprises with multiple Web apps can take advantage of Angular component development services to build world-class applications in shortest time
Angular Support & Maintenance
We are not among the 'Done and Dusted' ones, we also provide support and maintenance even after the application has been built. Application upgrades, performance, bug monitoring & resolutions, security updates, quick fixes & backups.
Angular Web Application Development
Our Angular Development team will help you come up with exceptional Web Applications. Our creative Designers & Developers will help you to stand out from the rest.
Interactive UI Development with Angular
With Angular JavaScript Library, we can build interactive UI/UX that actually scale. Build awesome interfaces that your users love. Interactivity builds customer loyalty to your product.
Looking to Start a ASP.Net Zero OR Angular Project?
Tell us your needs and we will set you up with the best talent and a proven
development process to build your product.