Our Services


Hire Dedicated Development Team


We offer flexible hiring models that you can select as per your unique requirements
Specialized in ASP.Net Zero & Angular
Dedicated Development Team
ETechtics Software Solutions is a software development company specialized in .NET Framework, Angular, and ASP.Net Zero. We empower our clients with the best remote dedicated development teams. Hire Dedicated Development Team to get cost-effective & expert application development services for your business. Work with a dedicated pool of technical resources for your software development needs. Enable yourself to deliver more within the same budget and hire experienced developers for .NET Framework, Angular, and ASP.Net Zero.
Hire a dedicated development team of experienced programmers.
The team will be working full-time and 100% dedicated to your company.
Constant feedback and cooperation.
Transparent and solid working methodology.
Guaranteed Intellectual property rights and Data Confidentiality.
Application Support and Maintenance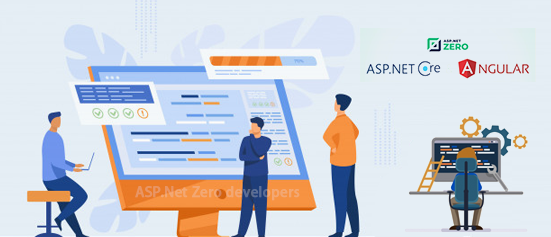 Hire Remote Employees
Get a Perfectly Fitted Team
You focus on growing your business while We Take Care of the rest. It's the small things that matter and make an impact. Below are a few reasons how we differentiate ourselves from other companies. We provide clients with End to End Offshore software development services applying the latest technologies.

Full Service Development Teams
Not looking to build a complete software department but need tech resources on demand.
We offer a complete setup where you get access to the best tech and management talent (developers, UI/UX experts).
Businesses developing new products or startups without defocusing the core team.
Dynamic companies with ever-changing development goals, which cannot afford a long-lasting hiring process.

A perfect solution when your current project initiatives need a few additional dedicated specialized resources.
Our expert team members will consistently and cost-effectively fill the gaps in your project needs.
Companies with their own in-house IT teams and established processes, methodologies and tools to satisfy ad-hoc demand in extra resources.
Companies looking for resources experienced in latest/rare technologies or domain-specific expertise.

Test Before You Hire
Dedicated Development Teams
In order to establish confidence and demonstrate the quality of our work, we offer our clients to test our resources either via technical interviews or by conducting a no-cost proof of concept with precisely defined and framed tasks.
This way you know exactly what you are getting into before spending any money.

Knowledge and
Team Retention
Due to our well-established development processes, product knowledge is accumulated and retained throughout the entire project. Proper transition plans are created for knowledge transfer to new team members when needed.
Same knowledge is also transferred to the customer on project completion.
Offering the Perfect Blend of Emerging Technology Know-How & Domain Expertise


Workflow and
Asset Management



M-commerce
(mobile commerce)
Setup Process
How We Engage
We can get into action as soon as you're ready to start work.
Hire Dedicated Development Teams or Hire remote employees to develop ASP.Net Zero and Angular applications. We provide dedicated development teams who are well versed with all the modern technologies and cater to a diverse solution portfolio. Dedicated development teams obtain domain-specific. Therefore they are more productive and make fewer coding mistakes.
Tell us about your project tech stack what kind of team you need. "Tell Us Your Needs" to plan a free consultation session.
Evaluate Profiles & Approve Candidates
Match your needs with the best member Review profile and determine good fit-in-terms of technical backgound & commmunication skills
Team setup, environment tools, infrastructure setup process, and methodology definition. Communication processes establishment.
Control task execution via management tools, status meeting, clearly defined KPIs. Adjust team sizes (up/down) Knowledge gathering & sharing

Looking to Start a Project?
Tell us your needs and we will set you up with the best talent and a proven
development process to build your product.