Our Services


Custom Software Development


We offer flexible hiring models that you can select as per your unique requirements
Full spectrum of
Software Development Services
ETechtics Software Solutions is a custom software development company that matches your vision. We provide custom software and web application development solutions. Custom software development that matches your vision. We offer custom software, mobile apps, and web application development solutions. Full-spectrum of software development services (requirements engineering, design, development) coupled with flexible engagement models.
Hire a dedicated development team of experienced programmers.
The team will be working full-time and 100% dedicated to your company.
Constant feedback and cooperation.
Transparent and solid working methodology.
Guaranteed Intellectual property rights and Data Confidentiality.
Application Support and Maintenance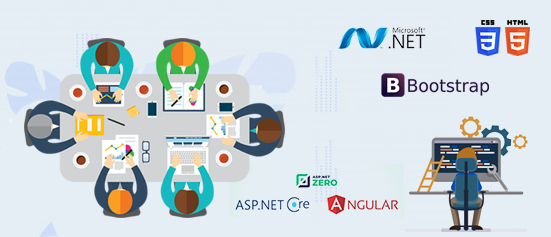 Build or Maintain
Web Applications/Enterprise Systems
We have mastered a wide range of industries but have the strongest track record in such domains as manufacturing, healthcare, retail, automotive industry, marketing and advertising, telecommunications, oil and gas, banking, logistics, professional services, and education. Our dynamic team members experienced across multiple tech stacks can help you rapidly build custom software development or maintain your applications/enterprise systems. We deliver custom web, mobile and desktop software solutions that broadly fall under 3 main categories – management of B2B, B2C interactions and internal operations.
Custom Web Application Development
Looking to build custom web applications? With our expertise in delivering end to end solutions for the web using technology stacks like Ruby on Rails, .NET, Node.js etc, we are set to do that
Mobile Applications Development
Work with eTechtics to formulate winning mobile strategies and develop trend-setting mobile apps to help you transform your business, cut down on costs and reap higher profits
Offering the Perfect Blend of Emerging Technology Know-How & Domain Expertise


Workflow and
Asset Management



M-commerce
(mobile commerce)
For All Business Sizes
Start Reaping The Benefits Now
Delivery of advanced custom-built solutions for SMBs, enterprises, and startups. Our custom web application development services have increased the customer retention rate for our clients. We have helped our clients by delivering customer applications that have a state-of-the-art user interface and analytical reporting for root cause analysis, proactive resolutions, and trend analysis.

Product Discovery Workshop – the first step to building a successful tech startup.
Flexible & Scalable team – capacity to rapidly grow the development team and assure 100% team dedication. Iterative Prototyping Service – enable rapid delivery of a fully verified MVP.
Certified Scrum masters and refined Agile delivery practices.

Ability to provide dedicated development teams for short & long term.
Flexible engagement models depending on customer needs.
Custom Development – business process automation.
Hands-on domain experience and value-added industry knowledge.

Professional consulting and assistance with enterprise mobility strategies.
Legacy app upgrade and enhancements help you leverage your existing IT investments by re-designing, refactoring and enhancing the outdated inefficient systems you currently use.
Migration to newer platforms, integration with third-party products and custom development.

Looking to Start a Project?
Tell us your needs and we will set you up with the best talent and a proven
development process to build your product.