Our Services


Cross-Platform Mobile App Development


We offer flexible hiring models that you can select as per your unique requirements
Solid Expertise & Seamless Experiences
We Create top-notch Mobile Applications
Our company offers customized, user-friendly, and high quality cross-platform mobile application development services using ReactNative, Flutter & Xamarin. Our expert mobile application developers build intuitive and feature-rich mobile applications, customized for your business. Nowadays, a growing number of companies going mobile turn to cross-platform app development. Hire our dedicated team of experienced developers to create enterprise and consumer level mobile applications that provide an engaging and sophisticated mobile experience on any device and platform you prefer.
Our industry expertise and technical experience in the Cross-Platform Mobile Application Development, and Web-based applications has enabled us to offer enterprise solutions for a broad spectrum of industries including eCommerce, Healthcare, Education, Automotive, Fleet & Vehicle Management, Retail, Utilities, Manufacturing, CRM, Public Survey, Parking Systems, Rebate Management, Chat Applications, Hospitality Management, Travel & Tourism, and Hotel Management for different geographical areas.
Hire a dedicated development team of experienced programmers.
The team will be working full-time and 100% dedicated to your company.
Constant feedback and cooperation.
Transparent and solid working methodology.
Guaranteed Intellectual property rights and Data Confidentiality.
Application Support and Maintenance.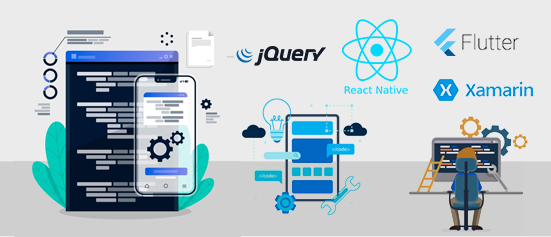 Proactive Approach & Agile Process
End-to-End Mobile Application Development
ETechtics Software Solutions use agile cross-platform development methodology, rapid, cost-effective services for cross-platform development. Our company provides competitive rates for cross-platform development and design talent. By making use of a wide range of technologies and our expertise, we make sure the applications look appealing on each platform and function the same way.
We start your project only when we have a firm idea of your business, the need to build a cross-platform app, and your objective. We believe in building apps that address your business requirements but exceeds your expectations.
Our highly skilled app developers create system architectures that guarantee the optimal working of the cross-platform mobile applications.
Following a user-centric approach, we build apps that fully meet your customer's needs and your business goals with remarkable features.
QA & Optimization Process
We unify new products into your business and digital infrastructure, Techtics covers the QA and testing performance process from start to finish.
Offering the Perfect Blend of Emerging Technology Know-How & Domain Expertise


Workflow and
Asset Management



M-commerce
(mobile commerce)
Solutions For Each Specific Business
Emerging Technologies Know-how

Wearables, iBeacons, Augmented Reality and other technologies are generating a ton of buzz these days. We see a lot of chat on the potential value of these technologies for both corporates and consumers. The challenge is to convert this hype into action and to be able to choose the right set of technologies.
We have leveraged GPS technology for apps built for mobile workforce management, fleet tracking to geo-fencing, geo-targeting and location-aware in-app messaging.
We'll help you ideate, design, develop and launch your Wearable app. Apps would be supported by strong back-end, cloud-based web systems.
iBeacons & Location Tracking
We developed enhanced in-store experiences to capture secure contactless payments, indoor location sensing and contextual coupon delivery leveraging technologies.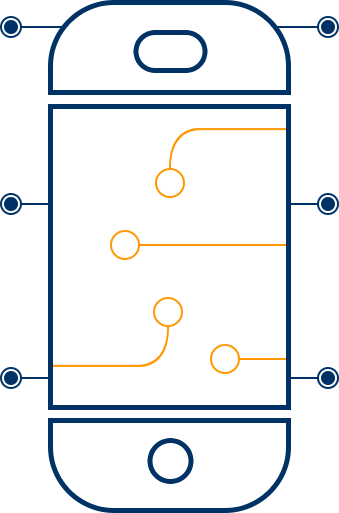 Augmented Virtual Reality
With the new ARKit coming out from Apple and Android, we are set to deliver compelling AR mobile apps overlaying information and interactivity over real-world scenes.
We are poised to deliver mobile-enabled Internet of Things (IoT), solutions for
equipment and appliances controlled via mobile.
ReactNative
Flutter
Xamarin
For Cross-platform
Looking to Start a Project?
Tell us your needs and we will set you up with the best talent and a proven
development process to build your product.