Our Services


User Experience Design Services


We offer flexible hiring models that you can select as per your unique requirements
User-Focused Strategy
UX Design As User's Viewpoint & Offer
Want to build your product with a team that establishes a clear design process, meets deadlines, and delivers a spot-on result? As your full-service technology partner, besides delivering top-notch development services, we also deliver innovative thinking, scientific UI/UX design, and beautiful looking user interfaces. Hire a dedicated UX team for User Experience Design Services, we will work as a part of your team from a product concept to pixel perfect design. At the initial stages of development, we explore your business objectives and your target audience preferences. We choose the high-class practices to display the vital-content and the strong points of your business. At ETechtics Software Solutions, we focus on what is important for you, and will we make sure that all requested and required features are discussed and delivered.
Our industry expertise and technical experience in the User Experience Design Services of desktop apps, client-server, Intranet, and Web-based applications has enabled us to offer enterprise solutions for a broad spectrum of industries including eCommerce, Healthcare, Education, Automotive, Fleet & Vehicle Management, Retail, Utilities, Manufacturing, CRM, Public Survey, Parking Systems, Rebate Management, Chat Applications, Hospitality Management, Travel & Tourism, and Hotel Management for different geographical areas.
Hire a dedicated development team of experienced programmers.
The team will be working full-time and 100% dedicated to your company.
Constant feedback and cooperation.
Transparent and solid working methodology.
Guaranteed Intellectual property rights and Data Confidentiality.
Application Support and Maintenance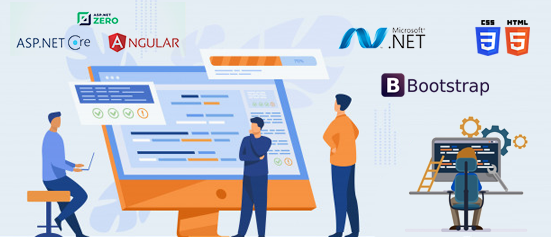 Hire a dedicated UX Team
Our Design Services Include

Extend your team with our professionals. When you choose our User Experience Design Services, you get everything to realize your product idea properly. We always ensure that the end-user is at the heart of our design considerations, offering a range of design services from UX research to interaction design, as well as full usability audits. The overall goal of our work is to benefit our customers' business by increasing the level of their clients' loyalty.

Specify the hierarchy and logical grouping of data. We always pay special attention to the end-users' needs & behavior.

Across all platforms (desktop, & small devices). We follow established design standards, workflows, and guidelines.

We design the most effective patterns of the user's interaction with an app. For Windows, Android, iOS tablets & smartphones.
As Your Development Partner
The Basics of Teamwork and Collaboration
The entire process is run by a highly experienced cross-functional team working in close collaboration with our customers. We develop intuitive and graphically pleasing user interfaces for websites, Mobile sites, and application software.
He lies at the intersection of Technology, Business And Marketing.
He provides technical design and advice for technology stack.
He is responsible for an in-depth understanding of the problem.
Crafts sleek, professional and appealing designs in line with latest trends.
Ensures all usability goals are correctly captured and documented.
Completely New Perspective
Our Systematic Process
We work with you to make appealing sites, impactful applications, and modern enterprise systems individuals love to utilize. Through your vision and our expertise, our team of business analysts, designers, and developers will build experiences that keep your customers coming back. Talk to us about your challenges and we will bring an incredible team and a completely new perspective on User Experience Design Services, and technology. Below are the tools and methods we apply to ensure seamless, fluid, relevant, and engaging experiences for end-users.
Listen to stakeholders, understand business objectives, and functional requirements.
Personas Ethnographic research Interviews & observations Task analysis & user stories
Metrics & analysis of competitive analysis Ideation & strategy Benchmarking
Concept sketching System/Process flow Information architecture Interaction design
Brand identity integration High-fidelity mockups Interactive prototypes
Finalize UX deliverables Suggestions / next steps Code front-end interaction
Looking to Start a Project?
Tell us your needs and we will set you up with the best talent and a proven
development process to build your product.