Our Services


Hire React.JS Application Developers


We offer flexible hiring models that you can select as per your unique requirements
Focus On Your Bottom Line
Why Hire React Developers?
Looking to hire ReactJS developers for ReactJS application development services. Our ReactJS developers have built robust, innovative & dynamic web applications. Our remote ReactJS developers are experienced & have expert knowledge of the platform. Your idea is safe with us as we respect your secrecy. Our teams work transparently and follow strict NDAs and software services agreements. Our front-end ReactJS dedicated developers have immense experience in utilizing exceptional features of ReactJS like code reusability, faster rendering, etc. and delivers highly scalable and performance-oriented web app projects.
ReactJS developed by Facebook engineers, Reactjs is a new, efficient, declarative and flexible JS library used for building interactive user interfaces. It builds simple, fast, secure and scalable web & mobile applications. Hire React.js developers to deliver robust web applications that allow seamless integration, easy migration, and fast debugging.
Experienced team of React.JS Developers.
We offer the most competitive rates across the globe.
Constant feedback and cooperation.
Transparent and solid working methodology.
Guaranteed Intellectual property rights and Data Confidentiality.
Application Support and Maintenance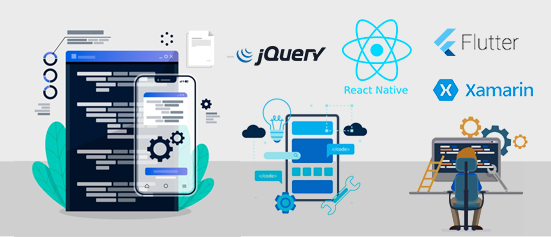 Efficient and Flexible JS UI Library
Why Choose ReactJS For Business Apps
As a Reactjs Development Company and React is one of the most robust and versatile development architectures for building web and mobile applications instigated our interest to excel in it as well. Our industry expertise and technical experience in Enterprise Application Development, and Web-based Reactjs application development services has enabled us to offer enterprise solutions for a broad spectrum of industries including eCommerce, Healthcare, Education, Automotive, Fleet & Vehicle Management, Retail, Utilities, Manufacturing, CRM, Public Survey, Parking Systems, Rebate Management, Chat Applications, Hospitality Management, Travel & Tourism, and Hotel Management for different geographical areas.
We guarantee smooth ReactJS maintenance, migration, and data security enabling your users to experience elevated functionality. Hire ReactJS developers to migrate or upgrade your existing web applications to the React.js framework without affecting your data.
Dedicated Development Team
A scalable team of developers with a project manager for each client. With the help of our expert developers, we provide fast, scalable, responsive, and SEO friendly web application development services.
Daily standups, frequent demos and instant communication with client through Slack, Asana & Jira. Constant feedback, cooperation, transparency, and guaranteed Intellectual property rights and data confidentiality.
End-to-End Project Management
From requirement gathering to the final delivery of the app, we handle everything. We guarantee and ensures that the project objectives are met from the start to the end with specified criteria and standards.
Get a Perfectly Fitted Team
How We Can Work Together?
The entire process is run by a highly experienced cross-functional team working in close collaboration with our customers.
This way you know exactly what you are getting into before spending any money.

You know exactly what you want to build – we understand the project and give you an initial estimate. This might be adjusted a bit after the first milestone – discovery. From there we guarantee development at fixed price.

We perfectly match a dedicated agile team with your tech & product requirements. They can either work using your development processes with your existing in-house (or external) or work independently.
Supported by Robust and Well-Architected Back-end Systems
How our apps are built?
Our technical experts can handle backend integrations for all sorts of Android Applications. We build apps with real-time connectivity to business data, resources, and systems of your choice. ReactJS along with its sister concern React Native, a mobile app development framework, is the next most promising technology in line. We develop fully customized native applications that solve your immediate needs and build a strong foundation for future adjustments and changes. Hire ReactJS Developers from our company and avail top-notch ReactJS development services.
Cross-Platform Compatibility
Better User Experience & Engagement
Famous, Easy to Use & Secure
Advantages / Why ReactJS Development?
React.js was developed by Facebook back in 2013 and since then it has created a devoted community of software developers and companies. Web applications created with React.js are very secure and efficient. React.js is easy for debugging because of its component-based coding development. The solutions created by ReactJS are generally light-weight, highly engaging, and versatile that can be easily integrated, further. We have professionals who are skilled in coding with ReactJS and are all set to give you the best experience. React.js expanding its worldwide community. As a prominent ReactJS Development Company, hire ReactJS developers who make your interesting UI design and highly-engaging apps. According to Stack Overflow Developer Survey, it is now the second most loved web framework.
Its DOM module optimises the updation process and one direction data flow provides code stability
Virtual DOM enhances user experience substantially by speeding up user updates without affecting other parts
Its ability to reuse code components from different levels anytime, cuts back on development time
React is excessively SEO friendly as it is able to render the page on the server side, before sending it to the client
React has its own lightweight representation of the document, that enables us to make several cool design and dev alterations
React allows for ease of maintenance by unifying markup with its corresponding view logic
Looking to Start a Project?
Tell us your needs and we will set you up with the best talent and a proven
development process to build your product.