Our Services


ASP.Net Zero / Hire ASP.Net Zero Developers


We offer flexible hiring models that you can select as per your unique requirements
Benefits / What is ASP.Net Zero?
Hire ASP.Net Zero Developers
ASP.NET Zero is a starting point to build new applications. Hire ASP.NET Zero Developers to create custom web applications for your business in less time. ASP.NET Zero provides different architecture/framework options. It's built on popular .NET frameworks like ASP.NET Core, ASP.NET MVC, Web API, and Entity Framework and UI libraries like Angular and jQuery. We have been working on the ASP.Net Zero since its initial version which was in AngularJS. So, We are the Pioneers of ASP.Net Zero Framework.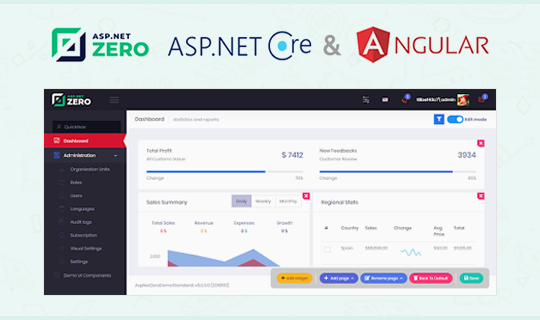 Solid Architecture
Layered, clean source code built on a strong base framework.
Built-in Multi-Tenancy (SaaS)
Tenant, edition, feature, subscription, and payment management.
Advanced Authentication & Authorization
User, role, permission management. Many built-in & integrated login options.
Rapid Application Development
In addition to built-in features, RAD tooling speeds up your daily development.
Full Source Code Included
Get the full source code and change it however your business requires
Key Features
ASP.Net Zero
ASP.NET Zero provides multiple solutions and effortless features for your needs to develop a comprehensive web application structure. ASP.Net Zero saves your time by providing common application requirements as a pre-built Visual Studio solution.

It can provide an automatically-generated web API layer for your application layer.

ASP.Net Zero provides domain driven and layered structural modern designs.

ASP.Net Zero is a starter kit/template for creating a new project (Web Application).

Multi-tenancy support; It can work in multi-tenant (SaaS) or single-tenant modes.

It uses Metronic as UI theme and ASP.NET Boilerplate as an application framework.

It provides a solid, strong and scalable solution architecture, also pre-built pages.
Specialized in ASP.Net Zero & Angular
What We Can Offer
We're motivated to scale and grow your business, as we are more than just a web application development company. We're a strong software development partner who's ready to cover all your technology needs through the following ASP.NET Zero application development services.
Hire Dedicated Development Teams or Hire remote employees (ASP.Net Zero Developers). We provide dedicated development teams who are well versed with all the modern technologies and cater to a diverse solution portfolio. Dedicated development teams obtain domain-specific. Therefore they are more productive and make fewer coding mistakes.
We create projects from scratch, so do you want to create or implement a new feature? You are welcome!
Do you want to redesign the application structure in the middle of project development? No problem!
Our work is always based on an individual approach to the clients, since it doesn't always make sense to write components from scratch if you can use a high-quality, ready-made framework based on .NET C#.
Therefore, we recommend you pay attention to this framework since its use provides a number of significant advantages:
Speeds up the project development. Reduces project development costs.
Good and intuitively understandable front-end, excellent SOLID-architecture of the project.
It provides base classes and infrastructure and automates your repetitive jobs.
The solution is established & have answered most of the problems met the minute software developer's start building application from Zero.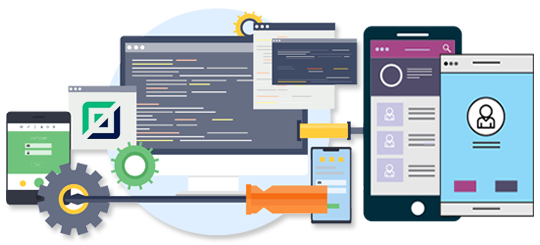 Want to migrate your existing application code into ASP.NET Zero framework?
While migrating an existing application, our qualified and experienced team of developers will modernize the Application UI using ASP.NET Zero. Our Team can be hired for adding new features and modernize the UI and build enhancements or to add new features.
We work on Time and Material basis and provide you a range of effort that is needed to build the application you have in mind.
Maintenance of existing ASP.NET Zero application
Our dedicated and skilled resources ensure that routine maintenance and enhancements to your existing applications are done with ease.
Maintenance of existing products
Maintenance & Enhancement Services
Upgrade to Latest Technology Stack
Application maintenance: incident resolution and bug fixes
Need help Updating ASP.NET Zero to the latest version?
For up-gradation the most obvious benefit is performance. The framework can be easily updated since it's distributed on NuGet. ASP.NET Zero provides a great base for starting a Web Application development, our expertise and experience can further accelerate your time to market.
Our Microsoft Certified .NET engineers are highly skilled and will help you to Upgrade ASP.NET Zero to the latest version.

You are in a good company, the following are the clients we have worked with in the past.






Looking to Start a ASP.Net Zero OR Angular Project?
Tell us your needs and we will set you up with the best talent and a proven
development process to build your product.