Mobile Application Development
Custom built mobile applications with amazing experiences that help support your business goals
Building great
Business and Consumer

apps mean not only creating amazing user experience
but also taking architecture, technical
Design & Security

into account.
We develop trend setting mobile apps for B2B, B2E, and B2C enterprises – easily integrating with your corporate systems.
Extend your existing web portals and services with content-rich and beautiful looking mobile apps.
End-to-End Mobile App Development
We offer complete end-to-end development services for all things mobile – covering everything from initial concepts to development & design to support.
Discover how Mobile can Help Your Business
Leveraging our Agile Discovery Workshop, we formulate winning mobile strategies to help you transform your business, cut down on costs and optimize processes.
Offering the Perfect Blend of Emerging Technology Know-How & Domain Expertise


Workflow and
Asset Management



M-commerce
(mobile commerce)
Emerging Technologies Know-how
Wearables, iBeacons, Augmented Reality and other technologies are generating a ton of buzz these days. We see a lot of chat on the potential value of these technologies for both corporates and consumers. The challenge is to convert this hype into action and to be able to choose the right set of technologies.
We have leveraged GPS technology for apps built for mobile workforce management, fleet tracking to geo-fencing, geo-targeting and location-aware in-app messaging.
We'll help you ideate, design, develop and launch your Wearable app. Apps would be supported by strong back-end, cloud-based web systems.
iBeacons & Location Tracking
We developed enhanced in-store experiences to capture secure contactless payments, indoor location sensing and contextual coupon delivery leveraging technologies.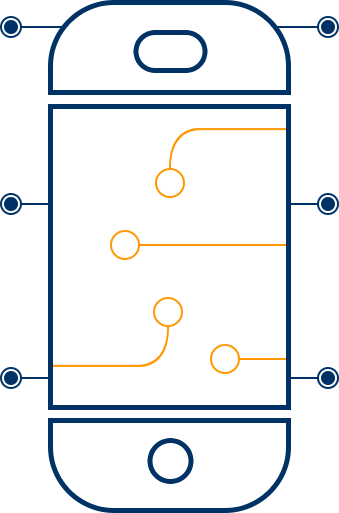 Augmented Virtual Reality
With the new ARKit coming out from Apple and Android, we are set to deliver compelling AR mobile apps overlaying information and interactivity over real-world scenes.
We are poised to deliver mobile-enabled Internet of Things (IoT), solutions for
equipment and appliances controlled via mobile.
Covering all Mobile Platforms
iOS
Android
Windows mobile
Cross-platform
Looking to Start a Project?
Tell us your needs and we'll set you up with the best talent and a proven development process
to build your product.