Techtics Services


Node.JS Application Development Services


We offer flexible hiring models that you can select as per your unique requirements
Building Web User Interfaces
Our Expertise in Node.JS Development
Node.JS is a cross-platform JavaScript run-time environment that utilizes an event-driven, non-blocking I/O model. It is an open-source platform that leads to a cost-effective development process. This cross-platform environment enables developers to effectively draft new modules. Techtics Node.JS Application Development Services include front-end/back-end development, Node.js web app development, hire dedicated Node.JS developers and API Integrations. Looking to digitally transform your IT and operations? There's no better partner than Techtics when it comes to leveraging NodeJS. Our Node.JS development services churn out result-oriented and functional web and apps. Techtics have gained expertise in providing versatile Node.JS web application development services to help you set new benchmarks in the industry.
We provide comprehensive design, development, and consulting services for Node.JS to assist enterprises through the adoption and operation of this powerful application framework and API. Hire NodeJS Developers to deliver robust web applications that allow seamless integration, easy migration, and fast debugging. Bring our NodeJS developers on board to build intuitive and responsive real-time applications that work for a variety of industries.
Experienced team of Node.JS Developers.
We offer the most competitive rates across the globe.
Constant feedback and cooperation.
Transparent and solid working methodology.
Guaranteed Intellectual property rights and Data Confidentiality.
Application Support and Maintenance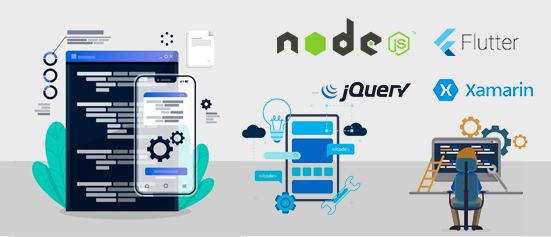 Solid Expertise & Seamless Experiences
Node.JS-based Solutions
With our Node.JS application development services and custom programming, we offer clients personalized solutions and ensure that all their business requirements are met. Partner with us to gain from our exclusive engagement models. Our expert professionals are available to you on a full-time or part-time basis. Our industry expertise and technical experience in Enterprise Application Development, and Web-based Reactjs application development services has enabled us to offer enterprise solutions for a broad spectrum of industries including eCommerce, Healthcare, Education, Automotive, Fleet & Vehicle Management, Retail, Utilities, Manufacturing, CRM, Public Survey, Parking Systems, Rebate Management, Chat Applications, Hospitality Management, Travel & Tourism, and Hotel Management for different geographical areas.
React.JS Web Application Development
With the help of our expert developers, we provide fast, responsive, NodeJS mobile, and web application development services. This makes us a one-stop solution for all your development needs in the space
Node.JS Custom Application Development
Nodejs is a powerful environment to develop lightweight and swift web-based or mobile applications. Employ our Node.js developers to help you build Node.JS custom application development.
Node.JS Web & API Integration
NodeJS enables developers to effectively draft new modules. Employ our Node.js developers to help you build APIs and embed them in an extensive range of web applications.
Node.JS Migration, Upgradation & Maintenance
We also offer consulting and integration services to help you migrate to NodeJS and integrate existing systems seamlessly. Hire Node.JS Developers to shift your present applications to Node.JS
Endless Possibilities for your Industry
Offering the Perfect Blend of Emerging Technology Know-How & Domain Expertise


Workflow &
Asset Management




M-commerce
(mobile commerce)



Manufacturing &
Technology

Famous, Easy to Use & Secure
Advantages / Why ReactJS Development?
There are a number of advantages that are exclusive to Node.js coding and help with your web application or website development. Web and mobile applications created with React.js are very secure and efficient. Node.js is all plugged in these days. Technically, you can call it a run-time environment that works on different platforms for both server-side and networking applications. Utilize the superior powers and capabilities of Node.JS, Techtics has achieved expertise in providing versatile Node.JS web development services to help you set new benchmarks in the industry.
We have an experienced dedicated development team that will further elaborate on the different advantages of the system to help you with a crystal clear concept. Our team of dedicated programmers has hands-on experience with Node.js. They help you improve the features and performance of the app.
Node.js is a flexible technology that offers not only exceptional speed but magnificent functionality.
Node.js has a wide range of features and fast functions that let you create apps with real-time authorization.
Faster Database Management
Using Node.js helps you develop a faster & stronger communication network by solving database issues.
Its ability to reuse code components from different levels anytime, cuts back on development time
Node.JS has its own lightweight representation of the document, that enables us to make several cool design and dev alterations
React allows for ease of maintenance by unifying markup with its corresponding view logic, and much more.
Supported by Robust and Well-Architected Back-end Systems
How our apps are built?
Making it possible to create real-time and data-intensive web applications, NodeJS has emerged as the number one JavaScript platform. Our technical experts can handle backend integrations for all sorts of Android Applications. We build apps with real-time connectivity to business data, resources, and systems of your choice. We develop fully customized native applications that solve your immediate needs and build a strong foundation for future adjustments and changes. Extend the capabilities of your portal or web application with the help of customized and integrated Node.js application development services. We also help reinforce your website and mobile platforms with our secure, business-driven web, and mobile apps. Hire our experienced Node.js developers today!
Cross-Platform Compatibility
Better User Experience & Engagement
Get a Perfectly Fitted Team
How We Can Work Together?
The entire process is run by a highly experienced cross-functional team working in close collaboration with our customers.
This way you know exactly what you are getting into before spending any money.

You know exactly what you want to build – we understand the project and give you an initial estimate. This might be adjusted a bit after the first milestone – discovery. From there we guarantee development at fixed price.

We perfectly match a dedicated agile team with your tech & product requirements. They can either work using your development processes with your existing in-house (or external) or work independently.
Looking to Start a Project?
Tell us your needs and we will set you up with the best talent and a proven
development process to build your product.